The story of Shagbark began in the best way; a father and son spending time together making use of the things they had at hand.
In 2010, I the son purchased some property in Wooster that had about 5 acres of woods and a house furnished with a wood-burning stove in the living room. It was right at that time that the Emerald Ash Borer came through and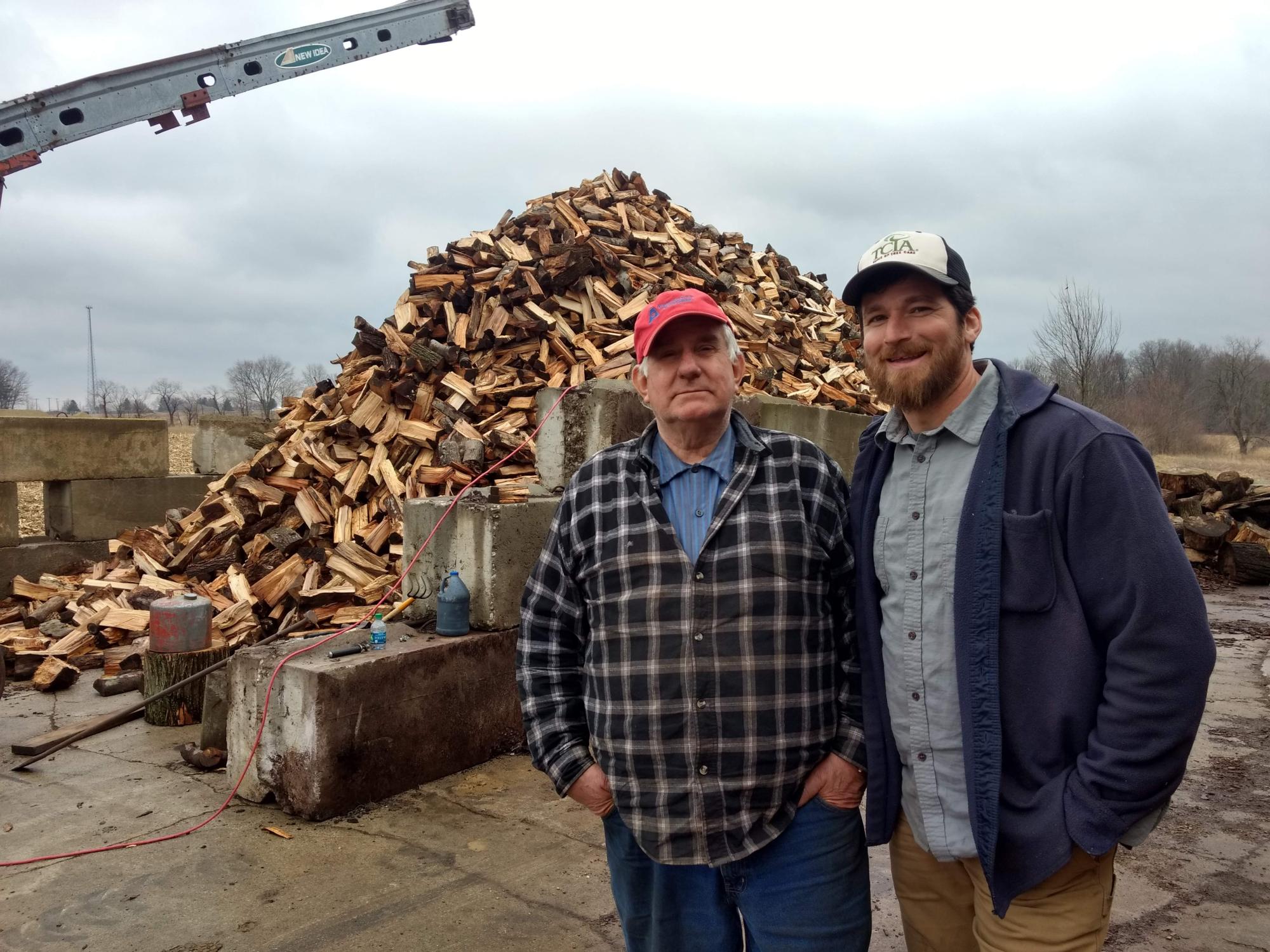 killed about a third of the standing trees in my woods. I discovered that cutting and splitting wood was a whole lot of fun, while my family discovered how nice it is to have a fire in the house during the winter. My dad soon convinced me that splitting wood by hand was a lot less efficient than using a hydraulic splitter, and in his retirement from the oilfield, he couldn't help getting the itch to turn this venture into some kind of aprofit. We salvaged a few pieces of oilfield equipment looking for new life. A backhoe became our log skidder, making it easier to get trees out of the woods. An old winch truck and tag-a-long trailer became a log truck and was heavy enough to handle all the Ash trees we could pile on it before they rolled off. We started picking up firewood customers one by one and as things grew, we began loking for new sources of logs to split. That got us in touch with local tree service companies who seemed more than happy to let a couple of rag tags come in and pick up their scraps after cutting trees down in the area.
At the time I was a full-time dad, at home with 4 kids. When our youngest son began preschool, I was looking for some part time work and finding employment with a local tree service seemed like a great fit. After being at home for 10 years, I relished the opportunity to be outside and embrace the physical challenges of tree work. A year later, my work dried up and it seemed like the right decision to begin my own company. I coupled my experience in tree work with some basic arborist training with ACRT in Akron and found the money to invest in a couple pieces of equipment. Shagbark Tree Service was formed in January of 2017.
Two years later, I have three part time employees and find it a challenge to keep up with customer demand during the busy season. We cut trees as fast as we can safely and stockpile all the wood. Then during the slow winter offseason, I get the chance to get back to splitting wood with my dad. Selling firewood has never been a great money maker, but it's certainly a great way to spend time with my dad, and it's a great reminder of how it all began.